You can send a professional looking email to thousands of your patrons promoting your upcoming events. Selling Ticket offers built-in design tools, layouts, images, and great looking templates to work from. You can edit the HTML code directly to fine-tune your creation. SellingTicket email marketing tools are included at no extra charge.
Here is some which you can do with our event promotion
Create coupon (gift certificate) for targeted promotion.
Distribute pre-defined coupon codes to selected patrons (each patron has a different coupon code which can be used one-time)
Live report identifying the usage of each coupon code.
Send new event announcements to your past patrons, members, or email subscribers.
Market Individual Events by sending event specific ticketing web page directly to target groups.
Place any ads you want directly on the front of tickets.
Printing mailing labels online directly use our merging tool.
Send Mass Email
You can send mass emails to the past patrons. Patrons in our system can be grouped based location, interest. Etc. And you can send mass emails to all the patrons or a selected group of patrons.
The following is screen shot of email sent by our mass email tool.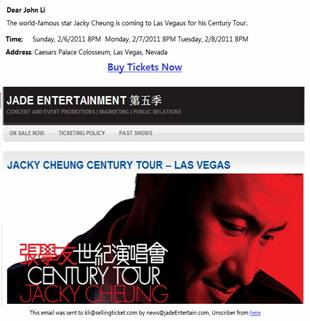 Get Sending Email Status
Once an email campaign has been sent, you can view status of the sent emails. You will know how many emails sent out successfully, how many emails are READ by recipients and how many emails read and clicked through. The following is a screen shot of the status of a mass email. Furthermore, you can exactly the emails of different status.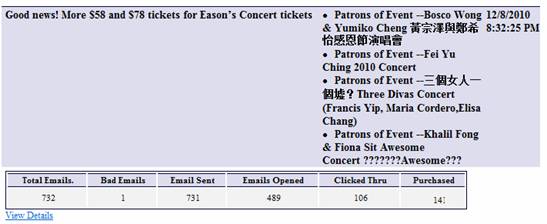 Failed emails will be formed into a group for you to take actions on those emails, like correct emails, delete account, marked as UN-subscribed.
Print Address Label
Create address mailing labels so you can send marketing material to your patrons through the mail. You can print to your inkjet or laser printer using standard Avery mailing labels. Stick them on envelopes, postcards, or other mail pieces.




You can create labels for all patrons, patrons in specific groups, patrons who purchased tickets to specific events, or patrons who purchased packages. The system lets you preview your print job and even make last minute edits to your list before printing. Another great feature is the ability to sort by zip code, so you can target specific locations with mailers.