STBO provides ticketing for the following event types.
Instantly create your new event for ticketing (General Admission, Assigned Seating) using templates.
Update event information, pricing anytime.
Open or Close Online availability anytime.
Decide pricing level with the flexibility to offer multiple prices/level.
Create discount policies: Quantity Discount/"Group Sale"; Buy One/ Get One Free, etc
Create new events
Immediately upon opening a ticketing account you will see a General Admission template by default. Shortly thereafter our technicians will build a Reserved Seating Template to the exact specifications of your venue's seating chart provided by you.
Fig Screen of Create New Event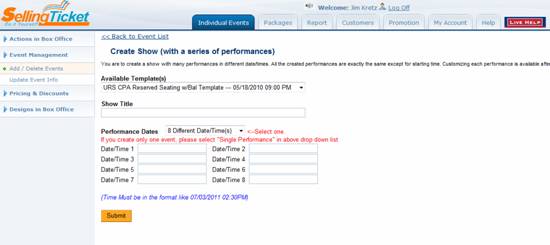 Creating new event in sellingticket is just selecting template and fill out Title and Date/Time event.
Once the templates are in order all new events are built using the existing information contained therein. All of your venue specific information is on record as part of the template.
From this point forward creating event is very easy, the system will prompt you for the name of the production, how many performances, the dates and the starting times and with a simple mouse click the new event is ready to go on sale.
Update event information
Another advantage is the ability to edit event related information. A change in starting time, add performances, or manage your seating inventory is not an issue.
Pricing & Discounts
Each General Admission event has the built in flexibility to have multiple price levels, Reserved Seating Events offer the possibility of color coded seating sections.
SellingTicket also grants you the ability to offer event discount policies, Senior Citizens, Students, Groups of varying sizes are all featured in the system. There is also a built in couponing system to assist in promotional marketing, cast and crew obligations or media coverage.