STBO provides ticketing for the following event types.
Sell (print) physical tickets in box office.
Take multiple payment types, like Cash, credit card, Season/Flex ticket, check.
Exchange tickets from one event to another one or different seat of same event.
Refund purchased tickets.
Custom box office ticket design (default provided)
100% configurable E-Ticket design (can bear your company logo)
Print your box office tickets.
Will-Call window tool.
Reserve seats (pre-hold) and release them anytime later.
Online real-time reports & statistics 24/7
Sell tickets from multiple sources with unified inventory--Box Office, phone, Internet, outlets, etc. Live Report shows each source's activities.
Print all the sold tickets, or all the reserved tickets, or all the tickets of the whole inventory at one time.
Sell Tickets in Box office
The actual selling process is very simple: Select Event > Select Seats > Enter Payment > Print Ticket.
Payments types can be in the form of Cash, Check, Credit Card (online form), Credit Card Swiped Device, or Redeem a Season Ticket Coupon.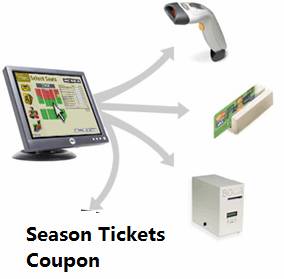 Design Tickets in Box Office
One unique feature is the ability to design your favorite box office ticket on the fly. You can drag and drop any the texts, images, bar code to any position on the box office ticket and they can be generated dynamically in printing real tickets. For example, you can put the patron name on the printed ticket then each printed ticket would bear the name of the actual purchaser.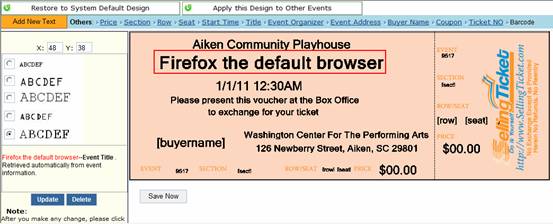 The above is a screen of design window. In this window, the price, section, box, seat….ticket No, bar code are all available options you can put on the box office ticket at your discretion.
Multiple Users (selling tickets)
Our ticketing system allows you an unlimited number of potential users and computers. Set it up on as many computers as wish (including remote outlets), as we are web-based, each will be connected to share information and process orders. Attach any of our optional accessories to further enhance your box office operation.
This software is a complete point-of-sale system that enables your staff to sell tickets to your events, monitor sales activity, and produce detailed reports. And because it's a web-based system, it doesn't require complex network configuration or onsite servers.